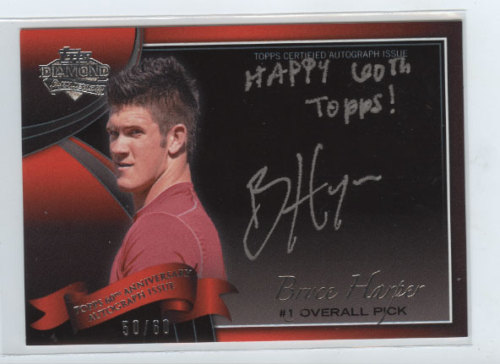 (Another limited edition Bryce Harper baseball card hits eBay. Image via Dailywax.com) 
Keeping up with a theme from last week: Via sports card blog DailyWax, another limited edition Bryce Harper autographed baseball card is out roaming the wilds of the internet, this one a representative of Topps' 2011 60th Anniversary autograph edition. Hey, look: Harper even writes Topps a happy 60th birthday message on each of the 60 limited edition cards. 60 is like, really old.
Anyway, one of the 60 has apparently already made its way onto eBay: as of 8:30PM January 20th, bidding sits at a paltry $620.09, with the auction closing on the evening of January 21. What are you waiting for? Go break open your piggy banks, NatsTown!
Meanwhile, in advance of MLB.com releasing its Top 50 MLB prospects list next Tuesday, MLB.com's Jonathan Mayo released his Top 10 outfield prospects on Thursday. Bryce Harper came in at #2 among outfielders, which is pretty amazing considering the guy hasn't even played a minor league game yet. Those 35 AFL ABs certainly helped. Now, bet you a dollar that when MLB.com unveils its complete Top 50 next week, Bryce Harper ends up #2 overall.
Oh, and it's only January, but see you in September 2011 in Washington, Bryce.
Okay, maybe we're getting ahead of ourselves. See you on April 15 in Hagerstown, Bryce.
Befriend the Nationals Enquirer on Facebook. Follow us on Twitter.