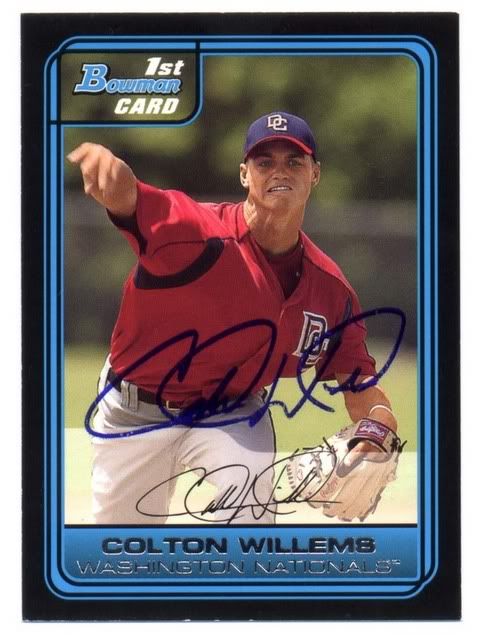 That's Colton Willems' rookie card. Willems, of course, was the #22 overall pick in the 2006 draft and at one time one of the crown jewels of Jim Bowden's Washington Nationals farm system. Seems like only yesterday when Baseball America ranked Willems (then 17) the third best highschool flamethrower in the 2006 draft behind a couple of guys named Clayton Kershaw and Matt Latos. Willems abruptly retired from baseball in May 2010 at the age of 21.
Today, Baseball America named the Nationals minor league system the best in baseball. From worst to first in five years, but who's counting?
Well, Mike Rizzo certainly is; and he should (set aside that the rankings considered Milone, Peacock, and Cole in the mix). They've come a long way since Bowden. Here's Baseball America Executive Editor Jim Callis, via a press release by the Nationals:
"The Nationals have come a long way in our organization rankings in a short time after ranking dead last just five years ago. They've been as aggressive as any team in the draft, which is the best way to build a team and a farm system. They've gotten the No. 1 player in our draft rankings for three years in a row with Stephen Strasburg, Bryce Harper and Anthony Rendon, and they've added a lot of quality depth around them."
(Image of rookie card via mwlautographs.webs.com)