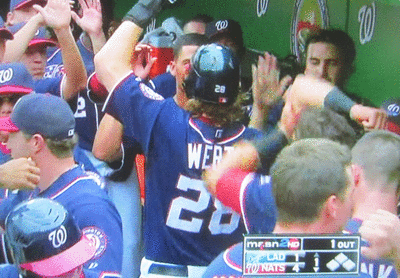 (Michael Morse shows off yet another side of BeastMode with a flying elbow in the dugout. Screen caps via MASN/TV.)
Michael Morse and Jayson Werth went back-to-back in the first inning on Labor Day (Here's video of Morse's shot. Here's video of Werth's bomb.) And then Morse greeted Werth with a flying elbow to the helmet when Werth returned to the dugout.
Nationals 7, Dodgers 2: And then the Nats delivered the equivalent of a flying elbow to the head of the Dodgers. Four home runs (Desmond, Morse 2x, Werth), a win for Lannan, and a near triple-play.